ZEF Digital Economical low tension measuring instrument Made in Germany4 capacities, 50, 100, 200 and 500 grams or cN
Description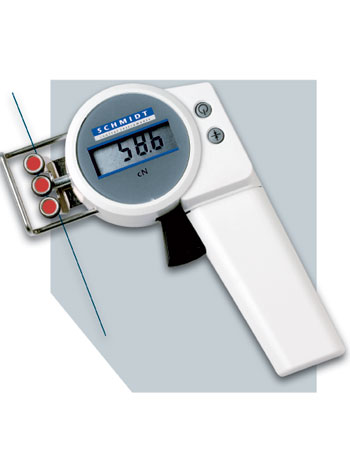 Click on an image for a larger image
ZEF Digital Economical low tension measuring instrument
4 capacities, 50, 100, 200 and 500 grams or cN
The new CHECK-LINE models ZEF and ZED Tension Meters employ a strain-gauge system for accurately measuring the running line tensions on a wide variety of yarns, fibers and fine wires. Its trigger-operated roller shifting mechanism makes it easy to acquire the running material.
Single-button automatic zero permits operation in any orientation while maintaining highest accuracy.
Simple handling
Adjustable damping
Easy to read LCD display
Light weight
Everything in operator's view:
– the guide rollers
– the measured material
– the readings
Housing made of high-strength plastic
»Auto-Zero setting« using a push button for measurement in different measuring positions
Slim filament guide with small guide rollers – ideal for limited access space
Filament guide and roller shifting mechanism ensure easy acquisition of the running material
Battery operated
Ball-bearing mounted, V-grooved guide rollers
Optionally available: Inspection Certificate 3.1 according DIN EN 10204 with calibration report
Certificate of Compliance with the order 2.1 according DIN EN 10204 is included
Model
Ranges
Measuring Head Width* mm
SCHMIDT Calibration Material**
Resolution
ZEF-100
0.5 – 100.0 cN
43
PA: 0.12 mm Ø
0.1 cN
ZEF-200
1.0 – 200.0 cN
43
PA: 0.12 mm Ø
1 cN
ZEF-50
0.50 – 50.0 cN
43
PA: 0.12 mm Ø
0.1 cN
Other units of measure are available, such as g.
* Width of filament guide
** Suitable for 95% of applications – PA = Polyamide Monofilament

Special calibration using customer supplied samples is recommended, if process material differs significantly from the SCHMIDT calibration material in diameter, rigidity or shape. For this purpose a material sample of about 5 m should be supplied.
ZEF Models
Miniature rollers make these models ideal for delicate yarns/fibers and fine wires as well as those application where access space is limited.

For Spandex and similar materials, specify model ZEF-100-T.
All models are supplied in a foam-fitted carrying case with worldwide AC-Charger with interchangeable multi-plug adapters.
Calibration:
SCHMIDT factory procedure
Accuracy:
±1% full scale ± 1 digit or better
Overrange (approx.):
10% full scale, without accuracy guarantee
Overload protection:
100% of tension range
Measuring principle:
Strain gauge bridge
Measuring roller deflection:
0.5 mm max.
Damping:
adjustable
Signal processing:
digital
A/D converter:
14 bit
Display:
3½-digit LCD, 10 mm high
Display update rate:
0.5 seconds
Self-frequency:
250 Hz
Autozero:
±20% full scale
Auto Power off:
After 2 minutes of non-use
Temperature range:
10-45ºC
Air humidity:
85% RH, max.
Power supply:
2 size AAA batteries 1.5 V
(about 30 hours of continuous use)
Housing material:
Plastic (POM)
Housing dimensions:
157 x 85 x 32 mm (L x W x H)
Weight, net (gross):
approx. 200 g (600 g)